Hi, Thank you for visiting the City of Brazil website. The Brazil City Fire Department is staffed with 14 Career Firefighters. All Professional Firefighters are members of International Association of Firefighters Union Local 1453. We cover an area of 5 square miles within the Incorporated City limits, and we also cover the area of Brazil Township outside the city limits, as well as the City's Industrial Park located east of Brazil. The City has a population of approximately 8,800. Our single station is located at the intersection of Forest Avenue (St Rd 59) and Jackson Street.
The Fire Department has an ISO Public Protection Classification of 5. The rating is based on our quick response time, available manpower, certified equipment and practical training. Our priority is the safety of our citizens and the protection of property. We provide Fire Suppression, Vehicle Extrication,  Basic Life Support and Rescue services to our jurisdiction. We also offer Fire Prevention and Fire Safety presentations that teach hundreds of elementary school children each year how to handle emergencies. Our trained and dedicated firefighters have a knowledge of our City and involvement with the people of our community that create a strong commitment to public safety.
Sincerely,   Jake Bennett, Fire Chief

Contact:
(812)448-1721
jakeb@brazil.in.gov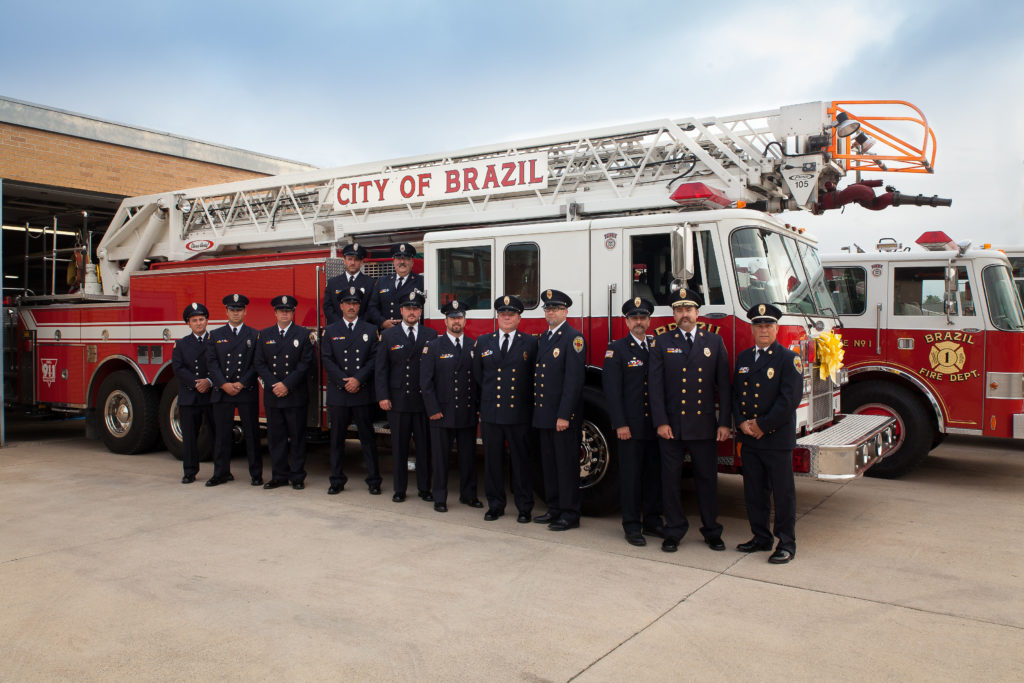 Fire Prevention and Safety
The Brazil Fire Department has a well-established fire prevention program that encourages the education of school children as well as adults on fire safety and fire prevention.  The Brazil Firefighters act as teachers and the station becomes a classroom frequently throughout the calendar year.  Nearly one thousand of the community's children tour the station and are educated on the profession and equipment of a firefighter and the dangers of fire and proper steps to stay safe in the event of an emergency.  The City Fire Department protects and educates the enrollment of four elementary schools, and several pre-schools.  Our education services are also provided to additional schools outside the city limits.  Adult education can be obtained by available pamphlets regarding a variety of fire and fire safety related topics.  Employees of the conscientious businesses of the community are informed on evacuation routes and proper use of fire extinguishers when services are requested.
Free Smoke Detector Program
The Brazil City Fire Department's "Free smoke detector" program is made possible through grant funds and donations received through local business. The local community can contact the department and request and pick up a free smoke detector at the department during regular office hours. 
The Brazil City Fire Department also partners with the American Red Cross's Free Smoke Detector Program to provide and install 10 year lithium ion battery powered Smoke Detectors in Brazil and Brazil Township to those in need. Residents within the department's jurisdiction, who need smoke detectors installed within their home, can call the department at 812 446-7551 and schedule an installation by the Brazil Firefighters. 
Many times the department is called to a home for a minor incident such as smoke smell or electrical problem. Taking advantage of this opportunity and with permission of the resident, firefighters ensure smoke detectors are in working order while they are there at the home. The National Fire Protection Agency (NFPA) studies have shown that although 85% to 90% of residences now have smoke detectors, 70% of these detectors are not in working order. The department urges members of the community to check their smoke detectors at least twice a year and replace detectors that are more than 10 years old.
Staff
Mission Statement
The Brazil City Fire Department on duty and in dedication to the public we are sworn to protect, will perform to the highest professional integrity set by our Department. Dedicated in service to the community, our members in training operations, performance, and public fire safety education will act upon to the best of our abilities in the protection of life and property from the threat and hazards associated to the destructive nature of fire. To this oath we have sworn to protect every man, woman, and child in our fire safe community.
Save
Save
Save
Save
Save
Save
Save
Save
Save
Save
Save
Save
Save