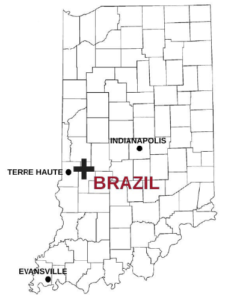 Brazil, Indiana is the county seat of Clay County with a population of  8,022 people (according to the 2014 American Community Survey), and is considered part of the "Wabash Valley" or west central Indiana region.  We are situated along the intersection of the National Road US 40 and State Road HW 59.
Regional Access
We're approximately 55 miles west of Indianapolis and 16 miles east of Terre Haute. Interstate 70 is approximately 6 miles south of Brazil, positioning the City for exceptional regional access throughout the Midwest.
Rich History and Notable Names
Brazil has a rich history in the brick and clay industry, and today we're home to Great Dane Trailers and several small homegrown manufacturers. Our large and attractive Forest Park Golf Course was designed by Pete Dye, a legend in the field of golf course design and construction. George N. Craig was a lawyer in Brazil, then later became Indiana Governor and National Commander of The American Legion. 1980s pop singer Henry Lee Summer was born in Brazil and wrote Billboard top songs. Setting track and field records at Brazil High School, Ivan Fuqua went on to run with Jesse Owens in the Olympics and win the 1932 4×400 m relay Gold Medal.
Read more about History of Brazil.
Public Facilities
Brazil is served by local police, fire, EMS and EMA. They are part of the City of Brazil and St. Vincent Clay Hospital.
Education
Our public school system is Clay Community Schools, with four elementary schools in Brazil, one middle school (North Clay), and one high school (Northview).  Cornerstone Christian Academy provides private school education for grades pre-K through 5th grade, and we also have a large number of home educators. Neighboring Terre Haute is home to four colleges and universities: Indiana State University, Rose-Hulman Institute of Technology (ranked as nation's #1 engineering school for 18 years), St. Mary's of the Woods College, and Harrison College.
More about Adult Education and Workforce Training.
Census Data
View census data for Brazil, Indiana.
Save
Save
Save
Save
Save
Save
Save
Save
Save
Save
Save
Save