Forest Park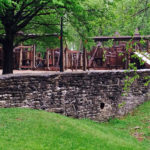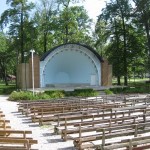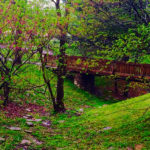 Forest Park has 49 acres of woodland, a 1/4 mile paved walking/go-cart track, 4,00 square foot wood playground, a four-field baseball complex, 13 picnic shelters, and a 267,000 gallon swimming pool. The park has hosted the Brazil Rotary 4th celebration for over 80 years. Its band shell has been home to the Brazil Concert Band since the 1920s and can easily seat 700 people. A large pavilion can easily put up to 1,000 people under roof for concerts and convocations.
Historic Structures in Forest Park
Chafariz Dos Contos Fountain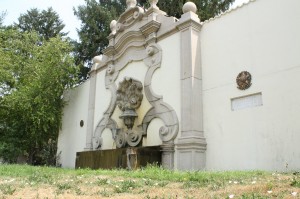 The Chafariz dos Contos Fountain is the pride of Brazil. The fountain was given to the City of Brazil as a cymbol of friendship by is namesake, the Republic of Brazil, South America in 1956. A restoration project for the fountain was completed with a rededication on June 14, 1997.
Log Cabins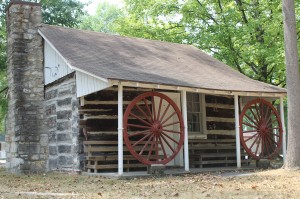 The Philip Fernsel cabin was erected in Sugar Ridge Township in 1851. It was moved to Forest Park 1926. The cabin was presented to the Clay County Historical Society by Jacob and Matilda Fernsel in memory of all Clay County pioneers. Later a second cabin, the William Payne or Frost Cabin was rebuilt in Forest Park.
Craig Park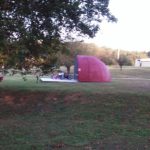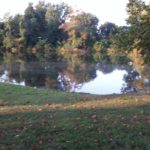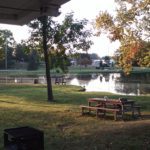 Craig Park has roughly  97 acres with approximately three miles of walking trails, primitive campgrounds, two large lakes for fishing, a growing softball complex known as Veterans Field, and new soccer fields that are being built. The park has hosted an annual fishing fun day in September for 12 years and has multiple picnic areas, large open areas for games and family gatherings, large quantities of wildlife including ducks, geese, deer, beaver, raccoons, owls, woodpeckers, squirrels, and groundhogs.
Babe Wheeler Park
Babe Wheeler Park is a 1.4-acre neighborhood park with a playground, two basketball courts, picnic shelter, mini picnic shelter, tee-ball field, and a large open area for field games and picnicing. It is a great location in the inner city to relax and spend an afternoon, and a good meeting place for small clubs and associations.
Save
Save
Save
Save
Save
Save
Save
Save
Save
Save