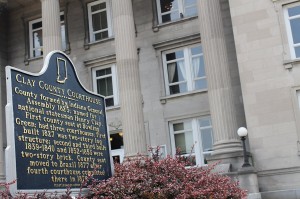 Clay County was organized from sections of Owen and Vigo counties in 1825, nine years after Indiana joined the union, and was named after Kentucky statesman, Henry Clay.
William Stewart,a native of Massachusetts, settled in Clay County in 1838 and built the first house in the town of Brazil and filled several township offices. He had fair educational advantages, having taught several terms of school in Ohio and Indiana, and taught the first term of school ever taught in the town of Brazil. Better known as "Yankee Bill," he was a pioneer carpenter and millwright.
One day early in 1843, he was seated on a log on a spot now occupied by Brazil Bank and Trust Co. discussing with Owen Thorpe the location of a town site at this point on the National Road, which had recently been completed through Indiana. Mr. Thorpe owned considerable land where Brazil now stands and donated the ground in 1843, and platted the town, consisting of 28 lots. Mr. Thorpe asked "Yankee" Bill for a suggested name.
Why the name "Brazil"?
Yankee Bill, who read the occasional newspapers that came in to the wilderness, had been reading about the revolution in Brazil, South America. He suggested the name "Brazil" as a short and easily remembered name for the new town. The original town consisted of 189 acres.
Brazil was a stopping point for the covered wagon trains of the thousands of personas trekking west. The first industry here was established by John Hendrix, Sr., who set up a blacksmith, wagon, and plow shop.
Coal and Clay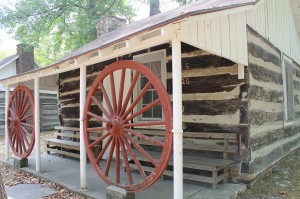 The main attraction to Brazil was the coal fields. In 1852, a young Pennsylvania man, Byron Lawrence, stopped off in Brazil en route to the West, and while exploring the creek beds, discovered deposits of block coal and pottery clays. He attempted to interest the local people in sinking a mine, but at the time, the pioneers were more interested in selling the lumber from the lands they were clearing. Although he is credited with projected the first mine here, he died before he could realize the profits of his genius. At one time there were 13 coal mines and 11 clay factories in Brazil.
Brazil on the Move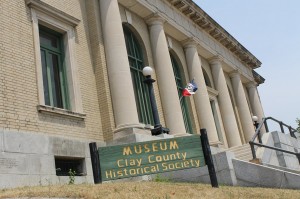 About 1860, Brazil was on the move. A foundry and machine shop, a woolen mill, and a tannery were in operation. The retail district was four blocks long. As the town began to grow, the citizens saw the need for incorporating. The 1866 proposal was approved 122 to 9 for incorporating.
The first school, Meridian St. School, was established in 1870. By 1873, the population was 3000. Originally there was no public sanitation, no garbage disposal, or city dump. Water drained from streets into open ditches at the sides. In 1876 there were three newspapers, seven dry goods stores, two tailors, two millinery shops, seventeen groceries, three livery stables, five drug stores, two hardware stores, four churches, and two schools. In 1873 a city charter was established and in 1875, water works and fire protection was added. By 1896 the population was over 1600 households and an electric railroad (interurban) was started. Brazil had two phone companies and five clay companies. Brazil was paving its main streets, and the downtown businesses were being rebuilt in sturdy brick.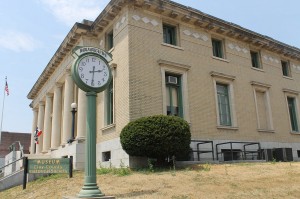 By 1906 there were four banks, an Opera House, six newspapers, nineteen attorneys, eight dentists, nineteen physicians, five railroad depots, nine hotels, 43 saloons, nine restaurants, eight confectioners, two milk depots, 11 meat markets, 10 clay works, and 13 coal companies. Population was 11,600. New schools had been added, a high school and four more elementary schools. In 1908 a piano factory and a boiler works were added. By 1916 a new high school was built. Mines and clay companies still prospered. The city added tennis courts and baseball diamonds. Three parks were maintained by the city –Forest, Oak, and Hendricks. There were three hospitals – Smith, Rawley, and Sourwine. Three movie houses – The Sourwine Opera House being one that featured Vaudeville and the flickers. A new post office was built in 1912 and the Court House in 1913.
By 1920 the National Road was paved to Terre Haute and all the big families had cars. About 1930 the depression was being felt. Families were moving in from Kentucky seeking work, but the mines were slacking off. Many of our unemployed had gone to the oil companies in Hammond and to Ford Car Company in Detroit. A new County Hospital and a city swimming pool were being built and Drag line or strip coal mining was being introduced. The electric railroad had ceased operations and busses mainly furnished transportation to nearby towns.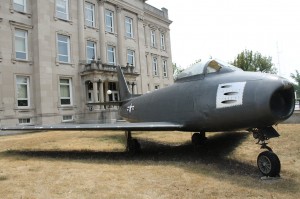 With the even of the Second World War, Twigg Industries had come in (manufacturing components for a number of builders of jet planes), and a hand-rolled cigar factory. The YMCA was started in Brazil during this time. Retail businesses consisted mainly of chain operations, thus depriving the town of the advantages of home owned stores. The Strip and drag line mining operations gave the area many fishing spots and private beaches for recreation.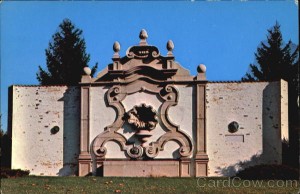 Brazil was highly honored in 1956 when the Republic of Brazil, South America sent it's ambassador and other officials here to help to dedicate the Chafaris Dos Contos fountain (Fountain of Tales). It is a duplicate of a famous watering trough monument in the historic city of Auro Preto, Minas Gereas, Brazil.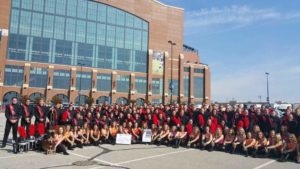 Brazil High School consolidated in 1984 with two other northern Clay County high schools (Staunton and Van Buren) to create Northview High School.  Since that time, the Northview Marching Knights have been crowned Indiana Class B State Champions eight times, runners-up seven times, and have finished in the top five all but two years.
Brazil's story is rich with prosperity, community and culture. The 2017-2035 Brazil Comprehensive Plan provides a path forward, giving the city a way to reflect on where it has been and realize it's current potential. Recently, the City has undergone the reconstruction of Main Street that includes new sidewalks, stamped concrete verge and lighting, which should revitalize the downtown. The community is also working towards increasing industrial and high-pay jobs.
Save
Save
Save
Save
Save
Save
Save
Save
Save